By Elisabeth de Mariaffi (an excerpt from Hysteria)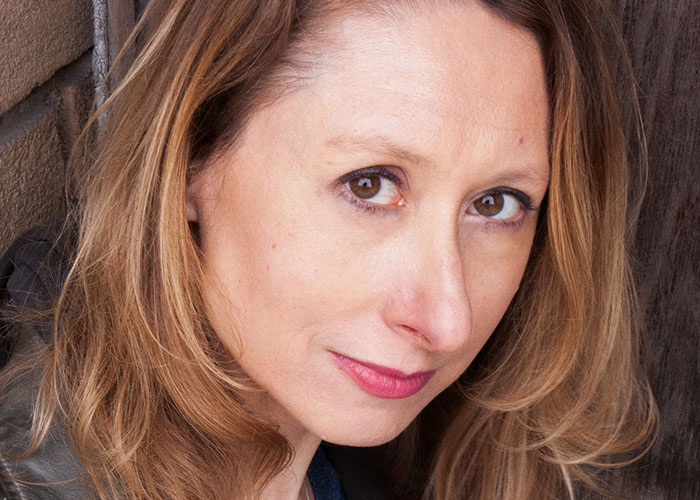 DANIEL WAS TALKING to her now, and Heike realized that his little leg was gone from under hers, the wood plank hard against her heel. She sat up and opened her eyes. The sun was strong enough to make her vision spotty. The light washed everything out. She squinted and Daniel came into focus. He was on hands and knees, at the raft's edge, talking away. Not to Heike. She sat up taller, drew a leg in, one arm supporting her from behind.
There was a little girl with him, down in the water, one hand gripping the side. As though she'd swum up to the raft. She held something in her other hand, a paper. A drawing, the bright crayon catching the sun.
Heike looked around. There was no other boat; no one, that Heike could see, standing on shore. She brought a hand up to shade her eyes, looking off toward the cottage roof in the distance, looking for a car, any sign of people. Was it possible that she was wrong about the place being abandoned? She thought back to the click of the doorknob lock opening against the force of her hip, the dust on the windowsills, the absence of any track, tires or shoes, in the warm, wet ground. After all that rain.
The little girl pulled up onto the raft with both hands now, Daniel crawling back to give her room. She'd abandoned her drawing. It wavered, white against the surface of the pond. Heike thought how quickly it would take on water and be lost to the bottom; a gift, perhaps, that the little girl's mother—wherever she was—would fail to receive.
— Come, let me help you.
Heike reached out her arm, but the girl was up on the raft on her own by now, sitting high on her knees. She was a sweet thing, about the same size as Daniel but perhaps a touch older. She'd already lost her babyness. Heike saw that her face was slim and almost sculpted, where Daniel's cheeks still puffed out round. She had the same blond hair, the wisps near her face shining almost silver in the sunlight, pulled back neatly in a ponytail, and wore a blue-patterned one-piece bathing suit with a ruched top and little gathered bloomers. So there was a mother, somewhere. Someone to brush and comb her hair, look after her, send her out into the world well cared for. Her skin, too, had nice colour, although she was certainly fair. A rosiness to her cheeks. Heike thought she looked a bit thin compared to Daniel. She guessed she might be as old as seven.
— I am Mrs. Lerner, Heike said. She held out a hand still, but the little girl didn't move toward it, looking instead at Daniel.
— This is Tessa, Daniel said.
— Tessa, where are your parents?
The girl gestured vaguely behind her, and Heike glanced up and scanned the lake again. How long had she been dozing? At some point she must have drifted deeper asleep, had heard nothing of the girl's approach. Not a splash. Where had she come from?
She looked for movement in the reeds, the nudge of a rowboat. Maybe the parents were hidden, fishing quietly, unaware of how far their daughter had gotten in a short time. When they lived in New York, Daniel had often hidden inside the big round racks of dresses at Bloomingdale's. Or Heike would find him standing, stone-like, in a boutique picture window with the mannequins. She'd lost him more than once.
— I'm thinking your mother is going to be very worried.
— I always swim here, the girl said, but she was talking to Daniel, not Heike. The water isn't so deep on that side of the raft. Heike watched her in profile, the sharp lines of her cheek and chin. She tried again:
— Do you live here?
The two children had gone back to chattering quietly together; he was showing her something wedged deep in a knot in the wood. Heike looked up toward the cottage a second time, then searched the shoreline with her eyes. Surely someone had to be missing this little girl. Soon they would hear a woman's voice, her mother or  grandmother, calling out and rising in panic: Tessa! Tessa!
But the call didn't come.
(Excerpt from Hysteria by Elisabeth de Mariaffi © 2018. published by Harper Collins Publishers Ltd. All rights reserved.)